In the shadow of the Trulli, in the heart of the Apulian tradition
The age-old tradition of the trulli, typical of central-southern Apulia, has proto-historic origins, although the oldest remains discovered so far date back to the sixteenth century.

What are the Trulli?
The Trulli buildings are composed of a cylinder surmounted by a cone, with the distinction of being built purely in "dry stone", without the use of mortar or other connecting material. Despite the simple form and very primitive means of construction, they are pleasing to the eye and architecturally perfect.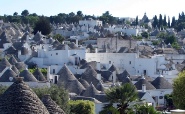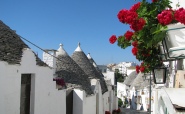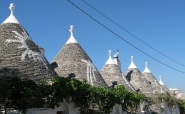 Where can you find them?
The trulli can be found on the plateaux of the Murgia region and mainly in the Itria Valley, the southern portion of the plateau, where they are commonly called casiedde (shacks, huts). Itria Valley, also called the "Trulli Valley", includes the villages of Locorotondo, Cisternino and Martina Franca, small areas also include the towns of Alberobello and Ceglie.

Alberobello
If the Trulli tickle your curiosity, then during your vacation in Puglia, dine in the town of Alberobello, also known as the "Capital of Trulli". In 1996, the trulli of Alberobello were declared UNESCO World Heritage Site. While strolling through the streets of Alberobello, stop at the Sovereign Trullo, the largest in the village, and visit the museum used inside, located on two floors. During the summer, you can attend all kinds of events (concerts, cultural evenings and poetry readings, theater) that are organized in the trulli. Among the artisan boutiques you can find linen garments to purchase that are produced by the artisans of Alberobello, known for their mastery of textiles. You can also try the sweets made with almonds, the pettole and the cartellate.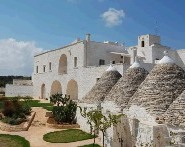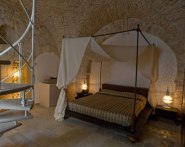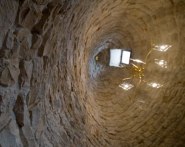 Staying at a trullo
The renovation of the ancient trulli, as well as that of the old colonial mansions (Masserie), has combined tradition with hospitality and given rise to new housing experiences. Staying in a trullo, or a Masseria, is now possible thanks to the renovation work on the old buildings, giving them a new lease of life whilst preserving their original charm.
In the town of Alberobello you can stay at the Le Alcove Resort nei Trulli, located in the historic center, just 100 meters from the UNESCO site of Castel del Monte. A few km from Martina Franca and Alberobello is home to the Masseria Cervarolo, a colonial mansion with trulli houses dating back to the sixteenth century and certified by the EU with an Ecolabel tag.


Photo credits: Fabio, Flickr
Northern Puglia Hotels and Villas
Hotels and Villas Central Puglia
Hotels and Villas West Puglia