Best Beaches in Puglia
Puglia: a coastal heritage yet to be discovered
Land of sun and sea, Puglia is the "heel" of the Italian boot that looks out over the Mediterranean Sea, meeting the Adriatic Sea on the east side and the Ionian Sea on the west side.

With its 800 km of coastline, it is the region with the largest coastal development, after Sardinia and Sicily.
Like the two main islands, the Apulian coasts are varied and alternate tropical landscapes, rocky stretch, long beaches, fascinating caves and impressive cliffs.

Unlike Sardinia and Sicily, Puglia is a young tourist region, with a coastal heritage yet to be discovered.
This is one of the reasons that led us to collect the well-known and unknown jewels of the Puglia coastline in a handy infographic that will help you to choose the destination of your next vacation in Puglia!

Useful and easy-to-read, the infographic Best Beaches in Puglia shows the 50 best beaches of the region, labelled by:
- type
- reachability
- key characteristics.

If you're still wondering which are the most beautiful beaches of Puglia, the infographic Best Beaches in Puglia will give you more than one precious answer!
Choose one of the hotels from our selection Beaches & Coasts: the quality and services of Charming, right next to Puglia's best beaches.

Click on the image to view the infographic, share it with your friends and plan your next beach holidays in Puglia!

[CLICK ON THE IMAGE TO ENLARGE THE INFOGRAPHIC]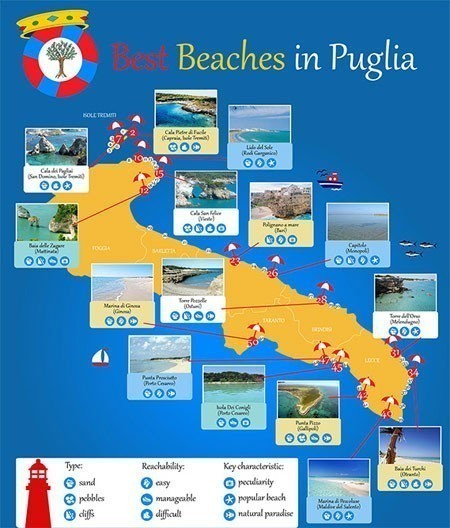 Best Beaches in Puglia: easy to consult and share!
Northern Puglia Hotels and Villas
Hotels and Villas Central Puglia
Hotels and Villas West Puglia